COVID-19 STATEMENT
To our valued patients. We are taking things very seriously at Clacher and Hook, and continue to implement many strategies to help avoid the spread of COVID-19. The health and safety of you, our staff and the broader community is our top priority! We are now open:
Monday to Friday
9:00am to 5:00pm

Thursday evening
By Appointment
Saturdays
8:30am to 12pm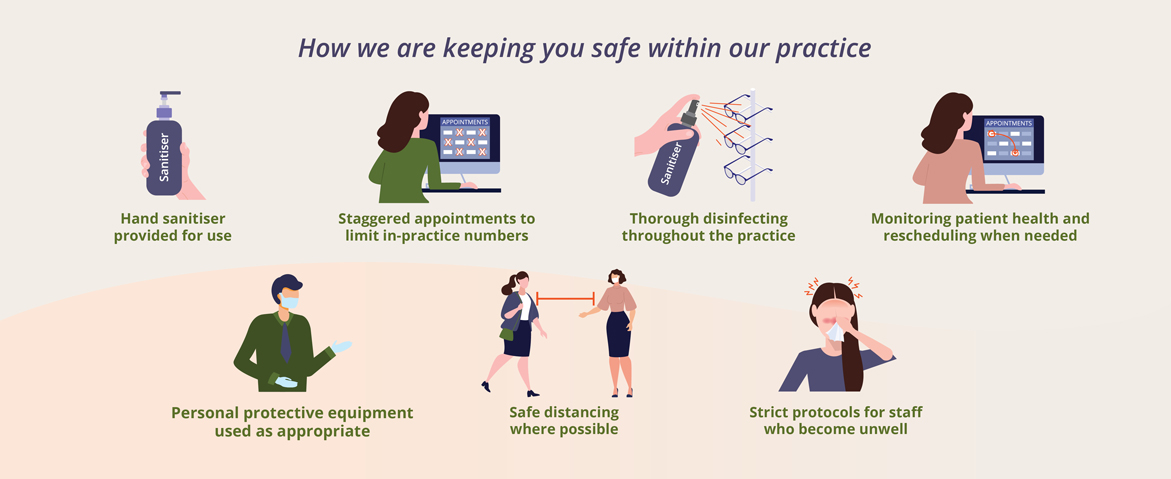 Measures we are taking due to COVID-19:
- We are spacing our waiting room chairs to comply with social distancing recommendations.

- If you are booked in for an eye examination, and would rather not wait in the practice, phone ahead to the practice 3396 1755 so we know you are nearby. This way your car can be your waiting room, and we will text you when your optometrist is ready to take you in for your appointment.

- Our staff will not attend work if they are unwell.
What we ask of you:

- Please do not attend our practice if you are unwell with a fever (≥37.5⁰C), have a cough, sore throat or runny nose.
- Please do not attend our practice if you have had contact with a confirmed COVID-19 case.

- Hand sanitizer is provided at the front desk and in the waiting area, please apply one pump to your hands on entering the practice.

We thank you for your patience and understanding at this time!
(last updated July 2022)